"It could happen at anytime. Walk across the street and get hit by a truck. Hop into your car and encounter a drunk driver. Suffer a sudden, acute illness and find yourself hospitalized. Any of these could end your life. Or, they could leave you mentally or physically incapacitated."
Who would know your current medical history, the medications you are taking, your allergies, contact information, and the doctors who take care of you? Would you have your affairs in order so that your doctor and family would know what your health care wishes are? Will the hospital know who you want to make decisions for you in the event you cannot make them yourself? Will your advance directives be available to medical providers when needed in an emergency?

provides access to your vital information, 24 hours per day, 365 days per
year anywhere in the world. Members carry a personalized wallet size CD that can be viewed on any computer. On the CD, your health care providers will open PDF documents containing your emergency medical information, contact information, power of attorney and copy of your living will. The CD will also direct it's user to a secure web site which contains the same records and any updated information.
ADDITIONAL INFORMATION and CONTACTS:
E-Mail Us
For visitors who do not have an e-mail client installed on their system.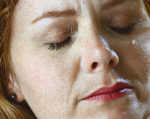 Copyright © 2004 We Who Care, LLC. All rights reserved.